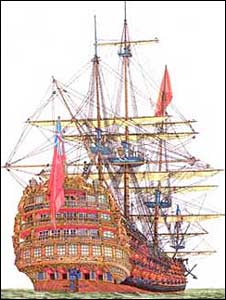 Have a look to British Navy most famout ships!
"In 1805, Vice Admiral Lord Nelson on board his flagship, HMS Victory, led 27 British ships into battle off Cape Trafalgar against a much larger combined French and Spanish fleet.

Thanks to Nelson's inspired leadership, the British won a great victory and the Battle of Trafalgar has become a defining moment in our history".
I visited these ships which battled against our Spanish Navy in 1805, while I was living in Portsmouth, and I think that its wonderful to walk inside them and remember our history.
The most famous ships are HMS Victory, HMS Warrior 1980 and Mary Rose. You can see some pictures cliking at:
http://www.historicdockyard.co.uk/
Anïk@